Expedited pet food testing

.
IEH Laboratories performs ISO17025:2005 accredited nutritional and trace residue analyses on pet food and animal feed. We can analyze raw agricultural products, processed pet foods, pet treats and animal feed for a variety of parameters to fit your needs.
Food safety labs supporting the pet food industry
.
IEH Laboratories offers analytical pet food testing services for major analytical chemistry issues such as Pentobarbital and Salmonella as well guaranteed analysis.  Our analytical pet food testing offerings range from Guaranteed Analysis, Microbiology Services, Chemistry & Trace Residue Services, and Nutritional Services. In addition we also offer consulting services for the pet food industry in the form of recall support, process validation. allergen control programs, and many more consulting services. View our full Pet Food Testing and Consulting services below.
Nutritional Analysis
IEH food safety labs can complete your nutritional labeling and analysis through food testing that ensures compliance with FDA and other regulatory guidelines. With expedited turnaround times of under 48 hours and comprehensive technical support, IEH Laboratories provides extensive, accurate, and fast pet food testing services.
Amino Acid Profile

Fatty Acid Profile

Minerals

Sugars

Vitamin D
---
Guaranteed Analysis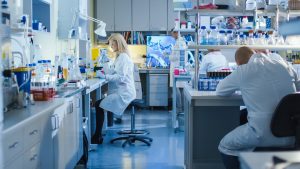 All pet food products must provide Guaranteed Analysis on product labels. IEH Laboratories provides analytical services that test products to ensure they meet regulatory standards and are safe for consumers. Guaranteed analysis provides diagnosis of nutrients in the product like protein, fat, fiber, moisture and vitamins.
Ash

Crude Fat

Crude Fiber

Crude Protein

Moisture
---
Contaminants and Adulterants
IEH provides adulteration and contaminant testing for the food industry including but not limited to incidental adulteration, economic adulteration, counterfeiting, product tampering and general food fraud. Our scientists and consultants can develop and validate appropriate methods and use them to investigate a potential issue. For over 20 years, IEH food safety labs have worked to expand our catalog of services to offer analysis for trace contaminants, speciation, GMOs, Allergens, Vitamins (Vitamin-D), and others including
Allergens (gluten/wheat)

Dyes and colorants

Glycols

Heavy metals

Mycotoxins

Pentobarbital

Pesticides

Preservatives (Ethoxyquin, BHT, BHA)

Veterinary residues and hormones

Vitamins (i.e, Vitamin-D in dog food)
---
Meat Speciation
IEH Laboratories & Consulting Group offers routine analytical services and food safety testing for speciation of meat products. IEH's advanced analytical tools and expert scientists test for authenticity and adulteration of pet products and food.
Beef

Chicken

Fish

Goat

Horse

Lamb

Pork

Turkey
Submit your sample for testing

.
To submit a sample for testing, complete the contact form here. A representative will reach out to you within 48 hours.
IEH Laboratories & Consulting Group
Phone: (206) 522-5432
www.iehinc.com
Expert Consultants
Our depth of knowledge is unparalleled when it comes to food testing and food safety. With decades of experience under our belt, our experts make us the first and only choice to handle any food testing, training, or consulting services.
Food Safety Training
We've spent years perfecting food safety courses, workshops, and programs designed to ensure the highest degree of confidence in the safety of your products & procedures.
About Us
A family owned company that has grown rapidly since 2001, both organically and through acquisitions. Our success is fueled by the dedication of our team of scientists, laboratory analysts, food safety experts, consultants, and staff.
Visit our Partners
We partner with leaders in various spaces and industries to uniquely position ourselves to deliver results and services that are comprehensive and quality assured.
Request a Service
Tell us what we can do to service you. We promise to respond within 24 hours
Find a laboratory near you.