In May of 2016, the FDA announced a new nutrition facts label which the industry needs to implement. The new label has some slight changes to appearance with the most significant changes being in the content of the nutrition facts.
Some of the changes include:
Increased type size for "Calories," "Serving Size," and "Servings per container."

Calories are no longer mandatory on the nutrition facts label.

Vitamin D and Potassium will replace Vitamin A and Vitamin C.

Labels must now include the actual amount as opposed to the Percent Daily Value.

Labels must now differentiate between "Total Sugars" and "Added Sugars."

Two-column labels when a package can be consumed in one or multiple settings.

The serving size must reflect what people are actually consuming, not what they should be consuming.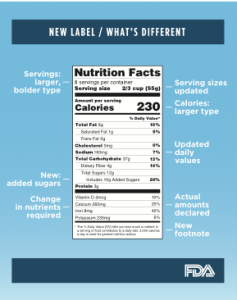 IEH Laboratories & Consulting is dedicated to ensuring that this transition is seamless and easy for our customers to remain in compliance with all applicable FDA rules.
Our Nutritional Testing Services include:
Amino Acid Profile

Ash

Calcium

Calories

Carbohydrates

Cholesterol

Dietary Fiber
Fat and Fatty Acid Profile

Iron

Magnesium

Moisture

Phosphorus

Potassium

Protein

Sodium
Sugars

Trans and Saturated Fats

Vitamin A

Vitamin B (full panel)

Vitamin C

Vitamin D (D2 and D3)

Vitamin E

Vitamin K